20 Fun Christmas Gift Ideas For Your Dog
Looking for something fun to get your dog for Christmas? You've come to the right place.
Finding a gift that your dog will enjoy isn't too difficult (dogs are easy to please and awesome like that), but finding one that will last? Well that's another story.
Dog toys are expensive, and it's hard to know just by looking at them which ones won't be torn to shreds in seconds. I know because I've been there many, many times. I can't even count how many toys my dog has been able to destroy within minutes.
To help you out I've put together a list of some of my favorite dog toys and chews. They're all fun, and unlike some other toys they've all managed to hold up well at the hands (I mean paws) of my 70 pound dog. Here's 20 fun Christmas gift ideas for your dog.
20 Fun Christmas Gift Ideas For Your Dog
---
Bob-A-Lot Interactive Dog Toy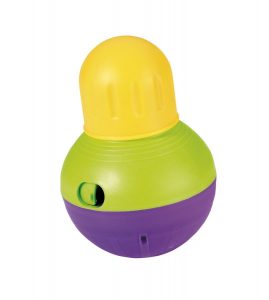 When it comes to food dispensing toys the Bob-A-Lot is my absolute favorite. Having your dog work for their food is a great (and easy) way to give your dog some more mental stimulation. You just fill it up with food or treats and encourage your dog to roll it around to get the food out. My dog loves it, and filling up her Bob-A-Lot keeps her busy for 15+ minutes.
The large size is quite big (6 inches wide and about 9 inches tall) and can fit up to 3 cups of food. It comes with an adjustable opening so you can easily adjust the difficulty level.
---
No Stuffing Squeak Toy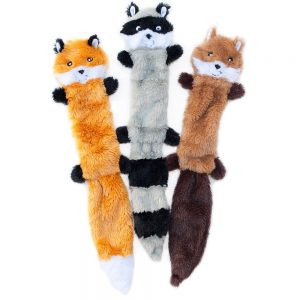 When it comes to plush toys does your dog enjoy ripping out all the stuffing? Are you tired of picking up all that fluff? If so one of these no stuffing toys would be a great gift for your dog. Keep in mind any dog that's intent on ripping things up can still destroy these, especially if they're into squeakers. Because of that I like to use these as fetch/tug toys, and I put them up when they're not in use.
This is a value pack that includes 3 individual toys. They're 18 inches long and have 3 squeakers each.
---
Chuckit! Glow Ball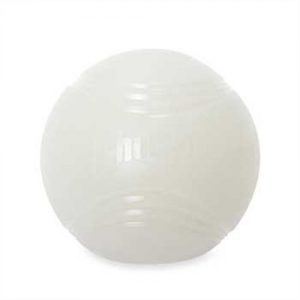 To say I was skeptical about giving this glow ball toy to my dog is an understatement. It's hard to find a ball that I can leave out for my dog that won't get ripped up. I was sure she'd have it destroyed within minutes. But to my surprise it's lasted a couple years without even a dent (and my 70 lb dog is constantly carrying this thing around…). If your dog loves ball toys you really gotta try this one out (it's seriously awesome).
Because it's so lightweight it's perfect for indoor play, and to make it even more exciting for your dog it makes a neat whoosh type sound as it flies. They're easy to clean, glow quite bright, and come in 4 sizes.
---
Chipmunk Hide & Seek Plush Dog Toy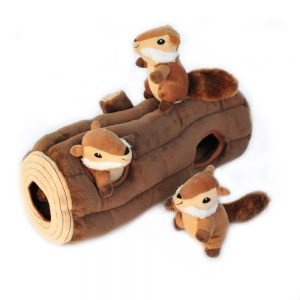 The Chipmunk Hide & Seek Dog Toy is a fun interactive puzzle game. You hide the squeaky chipmunks inside the log and watch as your dog figures out how to get them out. Because it's made of plush be sure to keep an eye on your dog — tough chewers will be able to rip this up. To make it last longer I put it away when it's not in use.
The Chipmunk Hide & Seek Toy comes with 3 squeaky chipmunks. The log size is 14 x 5.5 x 5.5 inches, making it great for large dogs.

---
Supreme Bully Sticks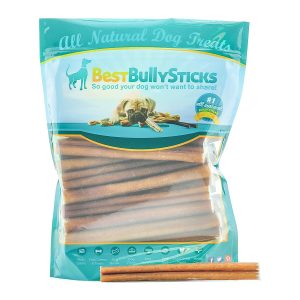 Does your dog love a good chew toy? If so you gotta try giving them some bully sticks. Bully sticks last a lot longer than other chews and treats (for my dog at least). And unlike some other chews they're 100% digestible. They're high in protein and made from all natural beef.
Depending on your dog's size you can choose the 6 or 12 inch or inch Bully Sticks. They come in packs of 25 or 50.
---
Jolly Ball Push n Play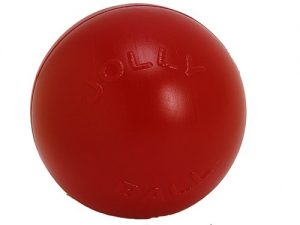 Is your dog a fan of chasing stuff around? If so they'll love the Jolly Ball. The Jolly Ball is a big ball that's designed for constant motion. We've had ours for a couple years and it's still in good shape. It does have a few scratches on it, but the ball is big and thick enough that my dog can't get her mouth around it.
The Jolly Ball is one of the few toys I find Laika playing with quite often — trying to herd it around the living room all by herself. The Jolly Ball comes in 5 different sizes and is made in the USA.
---
Benebone Chew Toy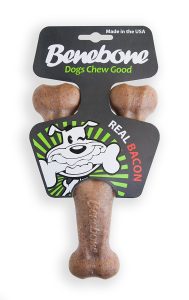 I don't know what it is about these things but my dog goes nuts for Benebones. She's not the biggest chewer in the world, but these keep her busy for 20+ minutes at a time. They're made with strong nylon and have a curved shape, making it easy for dogs to get a grip on.
Benebone's are made with strong nylon and real bacon flavor. They come in multiple sizes and 3 flavors (bacon, chicken & peanut butter). Benebone's are not recommended for dogs over 70 pounds. Though I have to say these last a long time (over a month) for my 70 pound dog.
---
Kong Cozie Squeak Toy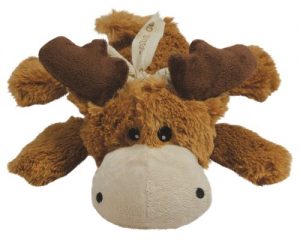 Looking for an inexpensive squeak toy for your dog? The Kong Cozie plush toys are some of my favorites. They're slightly tougher than some other plush toys, though tough chewers can still destroy them. And if your dog does rip them up they have less filling than others which makes clean up a bit easier.
We opted for Marvin the Moose, but there's plenty of others including a lion, rhino, elephant, rabbit and koala.
---
West Paw Zogoflex Hurley Toy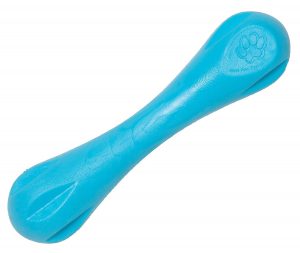 When it comes to tough chew toys I love the Hurley toy by West Paw (anything in West Paw's Zogoflex line is really tough). The Hurley toy is designed for long chew sessions, they float, and they're great for for playing fetch. We've had ours for a couple years and it's still in one piece with no dents or signs of damage.
The Hurley is non toxic, made in the USA and dishwasher safe. It comes in 3 sizes and 5 colors. West Paw offers a guarantee on their products — if you're unhappy with your purchase they'll replace or refund your order.
---
Kong Classic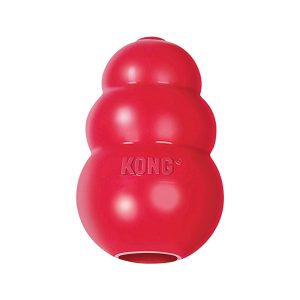 My favorite way to keep my dog busy & entertained is by using a stuffed Kong. I like to fill mine with some peanut butter & treats and freeze it overnight. When I give it to Laika in the morning it takes her 25+ minutes to go through it. Not sure what to put in your Kong? Here's 39 healthy treats to use for Kong stuffing.
Kong's are dishwasher safe and pretty durable (my 70 lb dog can't destroy the large size). And because they're so easy to fill with food & treats they're a great way to give your dog plenty of mental stimulation. Kong's come in 6 sizes ranging from x-small to xx-large.
---
Otterly Rope Toy For Dogs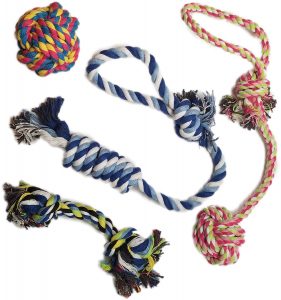 My dog goes nuts for a game of tug, and my favorite toy to play with is our Otterly rope toy. It's easy to grip onto, and these ones don't hurt my hands like some other tug toys do. Keep in mind these are great to use for tug or fetch, but they can easily get ripped up or destroyed if you leave them alone with your dog (causing a potential choking hazard).
These rope toys are 6.5 x 6.5 x 3 inches, making them great for small and medium sized dogs. They can also be used to help teething puppies by redirecting their biting — but remember to keep an eye on them since they can get ripped apart.
---
Pet Qwerks Talking Babble Ball Toy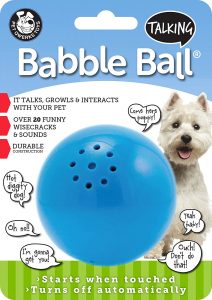 Do you want a ball that talks to your dog? Well you're in luck. The Babble Ball Toy has 20 different sayings & animal sounds that come out as your dog plays with it. Now I don't know if the talking is why my dog loves it so much, but I do know that she loves this thing. And it's one of the toys that's always entertaining for me to watch her play with. Every time she plays with it or even walks by it starts going off, prompting her to play even more.
The Babble Ball Toy comes in 3 sizes (small, medium, large) and uses a 1.5 Volt button cell battery. It's motion activated and turns off automatically when not in use.
---
Brick Puzzle Game by Nina Ottosson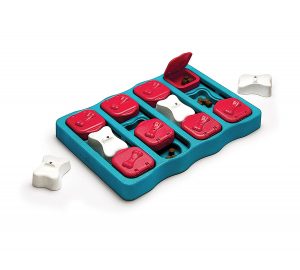 If you're looking for a fun way to exercise your dog's brain try using a puzzle toy. One of my favorite dog puzzle games is the brick treat brain game because it's so versatile. There's different ways for your to hide treats, so you can give your dog a new challenge every time they play.
The brick puzzle game measures 12.8 x 9.2 x 2 inches. Puzzle toys are a fun way to challenge your dog's mind and keep them entertained. This one is my favorite because there's 3 different levels of challenges all within the same toy.
---
Treat Dispensing Chew Ball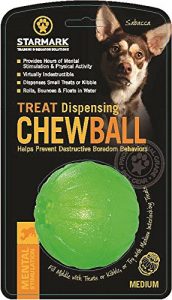 If you're looking for a treat dispensing you can use to give your dog a few extra treats the Treat Dispensing Chew Ball is a great choice. I use it when I want to keep my dog busy for awhile but don't have a frozen Kong ready (when it comes to food dispensing toys I love having a backup). It has a good bounce to it, it floats, and it's pretty durable. You fill it with some treats or food and watch as your dog has fun chasing it around.
The Treat Dispensing Chew Ball comes in medium (2.75″ diameter) or large (4″ diameter). And like all the best food toys it's easy to clean because it's dishwasher safe.
---
Goughnuts Dog Chew Ring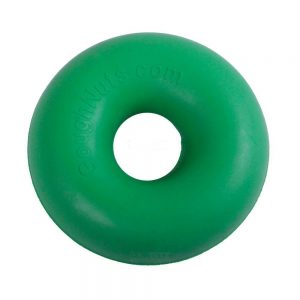 If your dog is a tough chewer I recommend getting them a Goughnuts dog chew ring. It floats and it makes a great fetch toy — and it's pretty darn tough. My dog hasn't been able to get through the outer layer of hers (though it does have a few small dents), even after a year.
The Goughnuts original dog chew ring comes in 4 colors. Goughnuts offers a guarantee on their toys — if your dog chews through the outer layer they'll replace your toy.
---
Himalayan Dog Chews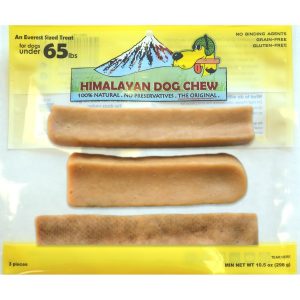 When it comes to dog chews Himalayan ones are one of my favorites. My dog can be picky when it comes to things to chew on (weird, right?), but she immediately gets to work when I hand her one of these. For their size these seem to last a bit longer than most other chews.
Himalayan dog chews are made from yak milk, cow milk, sale & lime juice. The large package contains 3 chews for dogs 65 pounds and under.
---
Kong Wubba Dog Toy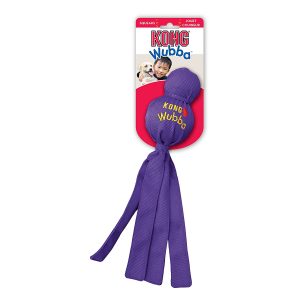 If your dog loves to fetch and play tug the Kong Wubba toy is a fun choice. Rather than just being a traditional ball this one is designed with two on top and some tassels, all covered with reinforced nylon. And besides being fun to fetch it makes a pretty durable tug toy.
The Kong Wubba comes in 3 sizes and is available in assorted colors. The double reinforced nylon fabric makes it durable for most dogs. (If your dog is a tough chewer I'd only leave this out when you're actively playing with it)
---
Spin a Bone Interactive Dog Toy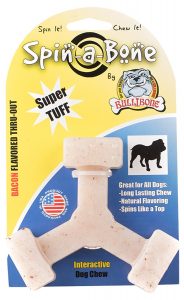 The Spin a Bone interactive dog toy is a long lasting chew toy that spins like a top. The spinning motion will help bring out your dogs natural instinct to chase. You spin it for your dog and watch as they figure out how to catch it, and once they've caught it they can use it as a long lasting chew toy.
The Spin a Bone dog toy is bacon flavored (though it doesn't have a strong odor). It comes with a 100% satisfaction guarantee — if you're not satisfied with the toy they offer a full money back guarantee.
---
West Paw Zogoflex Tux Toy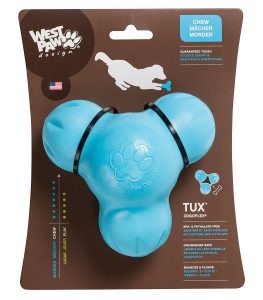 If your dog is a tough chewer West Paw Zogoflex toys are a great choice, and one of my favorites is the Tux. We've had ours for a couple of years and it doesn't show any signs of damage. These are a great alternative to Kongs if you want a durable toy to use for treat/food stuffing.
The tux toy is dishwasher safe, recyclable and made in the USA. West Paw offers a money back guarantee on their Zogoflex toys.
---
FurryFido Interactive Dog Toy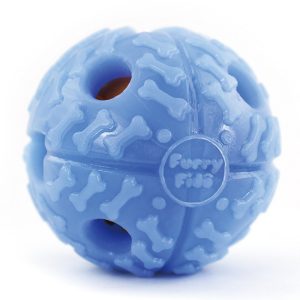 The FurryFido dog toy can act as a fetch toy and treat dispenser. Food dispensing toys are a great way to challenge your dog's mind and give them some extra mental stimulation. Unlike other treat dispensing toys this one has holes in different sizes which offers various levels of difficulty.
The FurryFido dog toy is made of thermoplastic rubber and is dishwasher safe. The ball is approximately 3 inches in diameter. The manufacturer offers a 100% life time, money back guarantee on these toys.
---
What Are Your Favorite Fun Dog Toys?
Do you already have any of the dog toys in this list? What sort of toys does your dog enjoy? Do you have any favorite dog toys to add to the list?
And if your dog is a tough chewer (what dog isn't?) be sure to check out our 7 favorite tough dog toys.
This post contains affiliate links. If you make a purchase I'll earn a small commission. Please see our disclosure page for more information.