Easy Pumpkin & Peanut Butter Dog Treats
Looking for a simple dog treat recipe? These pumpkin & peanut butter dog treats are one of my favorites because they're easy to prepare and quick to bake. And since my dog loves anything with pumpkin or peanut butter these always get a big seal of approval from her.
Tip: If you're looking for more homemade dog treat recipes be sure to check our our list of 25 Simple Dog Treat Recipes, all made with 5 ingredients or less.
Pumpkin & Peanut Butter Dog Treats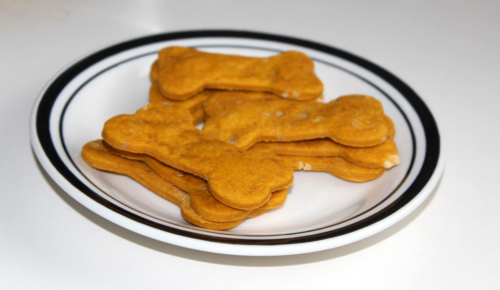 Ingredients
2 cups flour
1 cup canned pumpkin
1/2 cup peanut butter
I use Libby's 100% canned pumpkin and Crazy Richard's natural peanut butter. I used the chunky variety of peanut butter because it was what I had on hand, but if you want a more polished look stick with a creamy variety.
When using peanut butter in dog treats always check to make sure it doesn't contain xylitol. Xylitol is an artificial sweetener that a few brands use and it can be fatal to dogs. Check out this list for more information on which brands use xylitol in their products.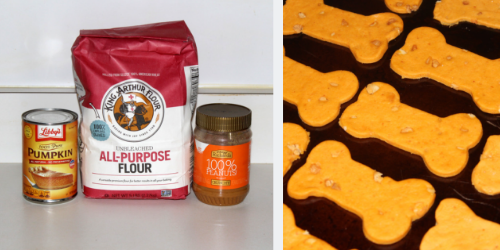 Instructions
Preheat your oven to 375 F.
Mix the pumpkin & peanut butter together in a large bowl.
Stir in the flour and combine the mixture into a dough.
Roll out the dough onto a floured surface.
Cut into shapes with your favorite cookie cutter.

Place treats onto an ungreased baking sheet, about a half inch apart.
Bake for 12 minutes in the preheated oven.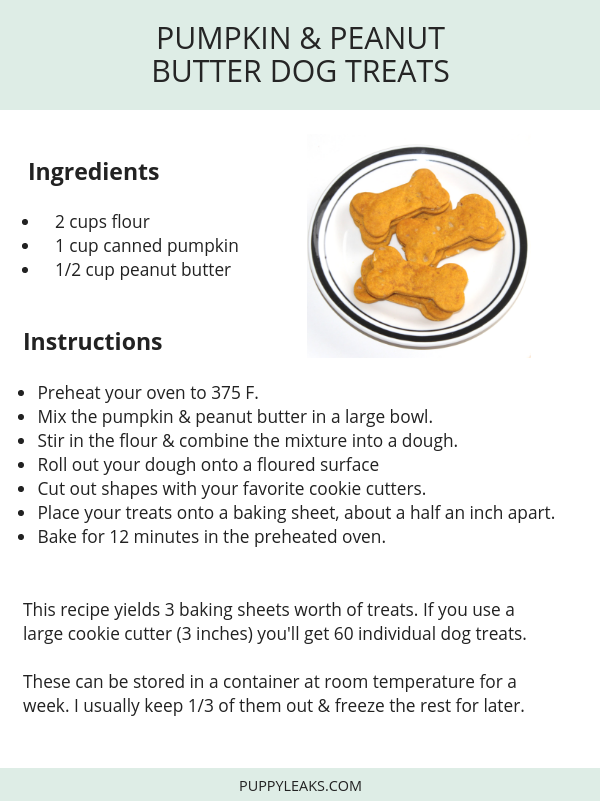 If you don't have any cookie cutters you can use a knife to cut out some shapes, use the top of a shot glass to carefully cut out circles, or make your own cookie cutters using a soda can.
Once the treats have cooled you can store them in a container for a week. Since this recipe makes so many treats I usually keep 1/3 of them in a container and freeze the rest for later.
This recipe yields 3 baking sheets worth of treats. Using a large cookie cutter (3 inches) you'll get 60 individual dog treats.