International Homeless Animals Day
International Homeless Animals Day
Since 1992 the International Society for Animal Rights (ISAR) has been holding International Homeless Animals' Day on the 3rd Saturday of August. It started with a candlelight vigil to observe the suffering of homeless companion animals and to raise awareness about pet overpopulation.
Since then it's grown to be one of the largest coordinated animal adoption days, which also promotes starting new spay/neuter programs.  ISAR also encourages the public to visit their local animal shelters, become a volunteer, donate much needed supplies, or sponsor a spay or neuter surgery.
Pawlooza, Canada, will be holding and "ultimate dog party" to celebrate International Homeless Animals' Day. Hosting more then 25,000 people and 6,000 pets the event will feature dozens of animal rescue groups featuring homeless animals for adoption.
In Texas it's Empty The Shelter Day which is the largest adoption effort ever held in North Texas and what the partners hope to be the largest multi-city, multi-county adoption event in the United States.
We cannot do everything, but we can each do something.
Unfortunately I couldn't find any events in my area this year, so I decided to highlight some of the available animals at my local shelter. The Oakland County Animal Pet Adoption Center is in Auburn Hills, Michigan. They have lots of dogs and cats at their main facility as well as 9 outreach centers throughout Oakland county which feature cats available for adoption.
If you can't find an event in your area but you'd still like to participate you can help spread the word about International Homeless Animals Day on your social networks. You could also donate to an animal shelter by checking their wishlists online. Shelters are always in need of supplies, call them up and see what they need. There are lots of simple ways you can help animal shelters without adopting, the possibilities are almost endless.
It's true that we can't do everything, but if you're able to help out just one animal in need you'll be making an impact on their life, and that's worth everything to that animal.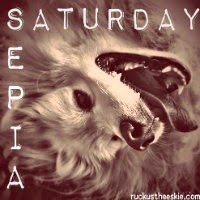 The Sepia Saturday blohop is hosted by Ruckus The Eskie