Happy Tails – Weekly Pup Report
Happy Tails – This Weeks Happy Dog News
Police Officer Saves Dog from Submerged Car 
Carver Police officer David Harriman to the rescue; described as an 'avid dog lover' Harriman dove into a pond to save a dog that was trapped in a submerged truck.  The dogs owner Debra Titus and another dog were able to escape before police arrived.  When officer Harriman showed up to the scene he dove under 8 feet of water to save the dog still trapped inside.  This image of Carver with the dog has gone viral on Facebook.  Read full story at Boston.com.
Service Dog Makes it Into Yearbook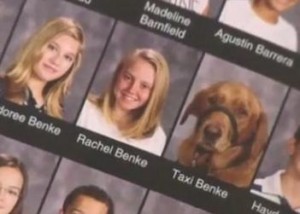 Rachel Benke was able to pay tribute to her service dog when her school allowed the dog's image to be used in their yearbook.  Taxi, the Lab/Golden Retriever mix has been Rachel's service dog for four years.  Benke has epilepsy and Taxi has proven to be a very loyal and excellent service dog; he detected a grand mal seizure Rachel had on the school campus. Read more at Opposingviews.com.
Bring Your Own Dog Brunch Returns to PA Restaurant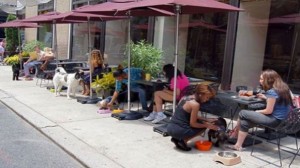 In Philadelphia this week restaurant Square 1682 offered a dog friendly brunch.  The brunchoffers a $5 healthy meal for your dog.  One dollar from each meal goes to local no-kill shelter Operation Ava.  Adoptable animals will be on site at the restaurant on Saturdays through August 22. Read more at CBS Philly.
Four Guys and a Dog Walk 1200 Miles to World Cup
Four men from England walked (with a dog) 1200 miles to the World Cup; their goal is to raise money to build a well in the Brazilian state of Bahia that has been hit by severe drought.    The dog wasn't in the original plan; in Uruguay this dog, a Black Lab assumed to be a stray started following the four men.  They initially tried to shoo the dog away but it didn't work, he ended up following them for 5 weeks.  The dogs owner saw the story and hitchhiked his way to meet up with the walking group and ended up catching up with the crew and his dog on the last day of their walk.  Read the full story on PRI.
Chrissy Teigen & John Legend Adopt 3 Legged Dog
Chrissy Teigen posted this tweet on Sunday to announce their newest family member;  a 3 legged French Bulldog named Penny.  The newlyweds have been posting images of their new friend on Instagram.  "She's a little tripod. She has been abused, and we are so excited to welcome her to the family," Teigen told PEOPLE.  Penny is the couples 3rd dog joining their other bulldogs Pippa and Puddy.