My Dog Has A Hoarding Problem
My Dog Has A Hoarding Problem
Is Hiding Toys Natural?
Laika hides things. When I first got her I noticed she would hide her bones under a blanket, carefully nudging it back into place after she was satisfied with her spot.
It didn't seem that unusual because I've seen videos of dogs doing it, they like to bury things; it's in their nature.
Secret Stashes
The first time I cleaned the couch after I got Laika I was a bit shocked to see about 10 toys and other valuables such as hair ties hidden between the cushions. I had no idea that whole time she'd been hiding them so well; I was under the assumption they were lost for good.
I've since found many other secret stashes of hers:
between all the chair cushions
in multiple pairs of shoes
behind garbage canss
in my coat pockets
laundry baskets
on windowsills
under the bed
I Know Cats Hide Things
I just find this quirk somewhat odd, I though this was more of a feline trait. Does my cat have a feline complex? Is she confused? I do make sure to remove hair ties or other hazardous treasures she's stolen.
It's probably my fault for giving her so many toys to begin with; she simple doesn't know what to do with them all. I actually start to feel bad when it's time to clean and she's probably wondering why I'm making her start all over again.
It always reminds me of this funny photo:
Is this really a common behavior in dogs? She's the first dog I've owned that's done this. I don't know if I should let it be or seriously consider an intervention for her hoarding problem.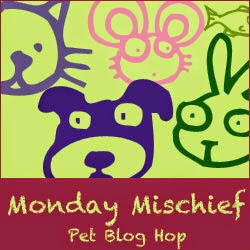 We're participating in the Monday Mischief bloghop hosted by Snoopy's Dogblog, Alfie's Blog, and My Brown Newfies.