Why Are You Barking So Much – Sepia Saturday
Why Are You Barking So Much
Laika why have you been barking like crazy at the front window? I'm trying to make dinner and you're at the door having a meltdown. We've been over this; you've been doing so well with your barking lately.
I'm glad I put down dinner to come have a look and grab some shots before they took off. Usually when I check to see what all the barking is about it ends up just being a bird or squirrel.
I guess I learned a valuable lesson; my dog has been doing well on her barking. Perhaps I should have trusted her when she started doing her excited howl.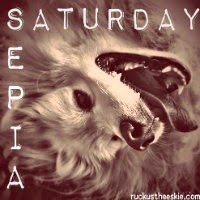 This is part of the Sepia Saturday blog hop hosted by Ruckus The Eskie